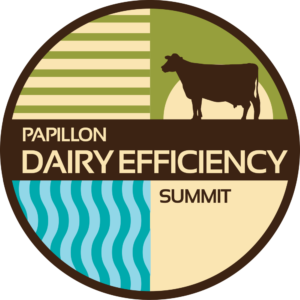 The Dairy Efficiency Summit is a speaker series designed for nutritionists and dairy producers looking to increase efficiency through precision agriculture. Industry experts provide strategies for monitoring efficiency and highlight the competitive advantage of implementing various methods to streamline dairies.
Network with leading industry experts

Gain valuable insights on monitoring efficiency

See the economic advantage of increasing efficiency on dairies
Impact of feeding efficiency on the income statement: Dr. Greg Bethard
Dr. Robert Fry, Atlantic Dairy Consulting
Dairy Efficiency Tricks and Traps: Dr. Robert Fry, Atlantic Dairy Consulting
Papillon Dairy Efficiency Summit: 2016 Highlights
DOWNLOAD THE 2016 DAIRY EFFICIENCY SUMMIT PROCEEDINGS
is an Emeritus Professor of Dairy Science at the University of Wisconsin. Dr. Armentano has focused his research on liver metabolism in cattle and maintained a program addressing the use of by-product feedstuffs and their role in providing energy, fiber, protein, and fat to dairy cows.
received his B.S., M.S., and Ph.D degrees from Virginia Tech in dairy nutrition and management. Dr. Bethard is currently the Chief Financial Officer at Pagel's Ponderosa Dairy in Kewaunee, WI.
graduated from the University of Georgia, College of Veterinary Medicine in 1977. Dr. Fry currently practices veterinary medicine and provides nutritional consulting services to dairy herds in the Northeast focusing on healthy cows and efficient production.
is the principal manager of Lester C. Jones and Sons Inc. in Massey, MD and has been chosen as one of The Fertilizer Institute's 4R Advocates. The 4R Advocate program highlights farmers who are using 4R Nutrient Stewardship to improve their farms profitability while minimizing potential environmental impacts of nutrient use.
graduated from the University of Maryland, Baltimore County in 2011 with a B.S. in environmental science. Jamie is a certified nutrient management consultant in the state of Maryland and serves as the Agronomy Lead for Sales Support at Willard Agri-Service, a liquid fertilizer company located in the Mid-Atlantic region.
is the President of Walmoore Holsteins, Inc. located in West Grove, PA. The farm operation is home to 880 lactating cows (29,000 RHA), 700 young stock, and 1200 tillable acres.
grew up on a dairy farm in Kewaskum, WI and earned his B.S. and M.S. degrees in dairy science, with an emphasis in nutrition, from the University of Wisconsin. Clayton is the Dairy Initiative Project Manager for Papillon Agricultural Company.